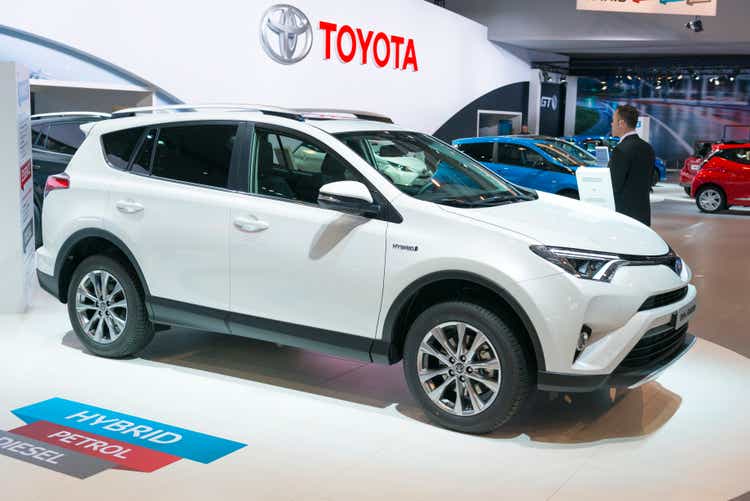 Toyota (NYSE:TM) has consistently advocated a two pronged strategy for its car business, based on hybrids and hydrogen powered vehicles. I've argued at length that the dual pronged strategy has lost its credibility with the emergence of BEV (Battery Electric Vehicles) with range that satisfies most car owners. Virtually all major car makers, except for Toyota, now have concrete plans to exit manufacture of cars with an ICE (Internal Combustion Engine). Toyota has worked hard to blur the boundary between electric vehicles (BEV) and what it calls "electrified" vehicles, which include hybrids with an ICE. Since the global car industry is starting to exit from making cars with an ICE, this puts Toyota at odds with its industry. Recent developments indicate that Toyota is doubling down on retaining manufacture of vehicles with an ICE. Here I summarise new developments that take it further from the pack. This is a dangerous path even for one of world's major car manufacturers.
Toyota doubles down further on hybrids
Perhaps showing how out of touch Toyota is on the electrification of transport, Toyota regards the release in India of its mass market mid-size Urban Cruiser Hyryder SUV, which it is producing through an alliance with Maruti Suzuki (OTCPK:SZKMY), as the "ultimate game changer in the India electrified auto space". Toyota claims the reason that it has gone hybrid is that it believes that Indian infrastructure is not yet ready for BEVs. The plan is to use India to export the vehicle to Africa as well as serving the Indian market. As I've noted previously Toyota has been very active in India pushing its hybrid vehicle strategy.
A recent summary of the Indian Government's electric vehicle plans is worth reading. The goal is for at least 30% of new vehicle sales to be electric by 2030 (and 40% of buses and 80% of 2 & 3 wheelers), with plans for 22,000 EV charging stations. It is true that the latest information includes some mention (in brackets) of hybrids, but the clear intent is a fully electrified fleet of BEVs.
Toyota's much touted BEV strategy falters
The centerpiece of Toyota's full electrification strategy is the BZ4X, although the number of such vehicles available is minimal. In a blow to its release the entire global BZ4X fleet of 2,700 vehicles has been recalled to fix a problem with the bolts which secure the wheels. Toyota states that there is no remedy available at this time and customers will receive a free replacement vehicle pending a resolution of the problem.
The number of BZ4X vehicles available is very small for a major release. The recall includes 2,200 in Europe, 260 US, 10 Canada and 110 for Japan. The initial production run is only 7,000 vehicles.
This is a huge contrast with other BEV strategies, which involve huge numbers of vehicles. Notwithstanding supply chain issues, January – May 2022 production by BYD (OTCPK:BYDDF) was 506,868 BEVs and Tesla (TSLA) 406,869 BEVs. Within 12 months Tesla will have 4 major factories each capable of producing 500,000 vehicles. Ford (F) is challenged by being overwhelmed by demand for its F150 Lightning electric truck, with current production goals now 150,000 annually; expect that number to increase.
Toyota seeks to equate hybrids with BEV in Japanese Government policy
There is nothing subtle about a recent report which claims that Toyota's President and Chairman of the Japan Automobile Manufacturers Association (JAMA), Akio Toyoda, lobbied the Japanese Government to support hybrid vehicles in the same way as BEVs or lose auto industry support. The result was a June document from the Japanese Government which put hybrids (with an ICE) on equal footing with BEVs.
Toyota has drawn criticism from environmental groups for refusing to commit to phase out of vehicles with an ICE (including hybrids) by 2040. Some very large investment funds are critical of Toyota's resistance to embrace the switch to BEVs.
Toyota share price is weak
Toyota's 5 year share price performance is adequate (up 40.9%), but its 12 month performance is down 12.6% and 6 month performance is down 23.5%. Some will say this is a reflection of declining sales in the US and Europe, with global supply expectation down a further 50,000 vehicles to 800,000 in 2022. I think the problems go deeper. Customers know that change is happening and the inability of customers to purchase a new generation Toyota BEV is an emerging problem for Toyota.
Conclusion
The above commentary about resistance of Toyota to commit to phase out vehicles with an ICE and instead to insist on a future for its hybrid vehicles won't come as a surprise to readers of 25 articles I've written about Toyota's approach to the electrification of transport. Its (lack of) plans to exit from producing vehicles with an ICE is a problem, especially hybrids in the case of Toyota. The change that is emerging is that Toyota is increasingly willing to lobby and aggressively push to have its hybrid vehicles treated on the same footing as BEVs. Anyone who pays attention to the need to reduce emissions knows that this is an unsustainable stance. The issue is becoming more public and it is causing Toyota difficulties, for example at its recent AGM. BEVs are no longer a curiosity, with major car companies now with clear strategies to exit ICE manufacture. Many Governments have strong BEV policies and plans to ban cars with an ICE. It is one thing to hold strong views, but when these views conflict with your own industry, your customers and Governments, this gets tricky. Toyota is such an iconic company that there is a loyal group of investors, but for those who are interested in the future, Toyota looks increasingly vulnerable.
I am not a financial advisor but I follow closely the massive changes coming as transport gets electrified. I hope that my comments on Toyota help you and your financial advisor when considering investment in Toyota.