Key events
Amusing scenes for the chasing pack at The Oval, where the extra half hour is taken to finish Kent's innings off – but instead Kent take tea still nine down, a batting point in the bag. Kent 271-9, Evison 76 not out, Hogan 39 not out.
DIVISION ONE
The Rose Bowl: Hampshire 210-4 v Northamptonshire
Lord's: Middlesex v Somerset 212-3
Trent Bridge: Nottinghamshire v Essex 205-5
The Oval: Surrey v Kent 223-9
DIVISION TWO
Bristol: Gloucestershire v Durham 240-5
Hove: Sussex 102-3 v Glamorgan 123
New Road: Worcestershire 0-1 v Leicestershire 173
Pujara out cheaply, Neser bowling to Smith!
Fine entertainment down at Hove. Neser traps Pujara for a duck, showing Steve Smith just why he should be in the Test squad. Sussex 102-3.
Leicestershire 173 all out
Not many for Rehan Ahmed, top scorer Colin Ackermann with 52. Three wickets each for Joe Leach and Matthew Waite.
At The Oval, Joey Evison wasps a short ball from Dan Worrall, six hooked off his eyebrows. Kent 209-9, a good recovery but suggests they'll be on the back foot for four days.
A hundred for George Bartlett!
His seventh, and first of the year. Tom Kohler Cadmore, as previously signposted, has guns blazing and gets off the mark with a six. Somerset 211-3.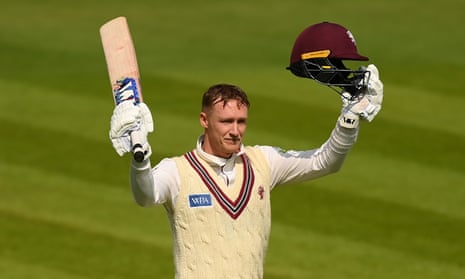 Following the Newton le Willows news, an email from Joe Molloy, Sale's 2nd XI wicketkeeper. Thanks Joe!
"On the subject of women's professionals playing in 'mens' (open gender) teams – Phoebe Graham has played for us a couple of times this year – she bowled 15 overs on the bounce the other week, nibbling it both ways off the seam! Quality cricketer, great person. Added lots to our side."
Surrey split Kent's handy eighth-wicket partnership, Lawes tempts Agar to play on for 31. Agar clenches his glove in frustration. Kent 192-8. Enter our third debutant, Arafat Bhuiyan.
Would pretty runs for James Vince improve your afternoon? Here you are – his third fifty of the season.
Round the Div one grounds: Vince and Brown applying the usual balm to the Hampshire batting card – 175-3, a partnership of 87.
George Bartlett approaches his first hundred of the year, Tom Abell 71 not out, as Somerset continued their frankly out of character innings building. Somerset 173-2.
Notts have broken Essex's flourishing second wicket partnership, Peterson grabbing both Alastair Cook (72) and Tom Westley (66). Essex 170-3.
And Surrey continue to chomp through Kent, Joey Evison and Wes Agar inching them towards 200, Kent 175-7. Two wickets for Dan Worrall, who I've learnt becomes eligible for England next year.
Sussex scoring at six an over as they aim to overtake Glamorgan by tea: 37-0, Orr (14) and Haines (23). But the early-season B-ballers (as promised, pre-season) remain Durham, who are whizzing along at over four against Gloucestershire, nearly 50 overs in. 204-4. Borthwick out for 54, Bedingham for 40.
Writes Gary Naylor:
Down and out in just over a session. Four for that Ollie Robinson,three for Karvelas.
An interesting story here by friend of CCLive and foraging expert, Jamie Bowman, in the St Helen's Star, about Newton le Willows signing North West Thunder and London Spirit allrounder Naomi Dattani. It is the first time a Liverpool competition side have signed a female professional to play men's cricket. She is expected to make her debut tonight in a T20 game v Hightown St Mary's.
Fifties for Tom Abell and George Bartlett!
A super recovery from Somerset this morning, from 10-2, an unbroken partnership of 110 between Abell and Bartlett at Lord's.
Fifty for Scott Borthwick, fifty for Alastair Cook!
The first half centuries tick over: for Durham's captain Scott Borthwick (Durham 147-2) and for Alastair Cook (Essex 109-1).
Only 16 wickets fell this morning round all the grounds apart from at Hove. At Hove, Glamorgan lost eight. A couple more in the bag since the lunch-time resumption: Leicestershire lose last week's batnball maestro Wiaan Mulder for a duck, 83-5; and Kent's Jack Leaning edges to third slip atThe Oval, Kent 99-5.
County Caps for Steve Smith and Tom Alsop
DIVISION ONE
The Rose Bowl: Hampshire 96-3 v Northamptonshire
Lord's: Middlesex v Somerset 96-2
Trent Bridge: Nottinghamshire v Essex 86-1
The Oval: Surrey v Kent 98-4
DIVISION TWO
Bristol: Gloucestershire v Durham 127-2
Hove: Sussex v Glamorgan 83-8
New Road: Worcestershire v Leicestershire 83-4
And two wickets in an over by Worcestershire's Matthew Waite puts Leicestershire in a pickle just before lunch, 80-4.
Hampshire wobble after a high-speed start, now 92-3 against Northants. Fletcha Middleton bowled for 40 – another good start. James Vince always seems to be batting for Hampshire, and here he is again. A wicket each for Buckingham, Sales and White.
Leading Championship wicket-takers 2023
Division One: Chris Rushworth (30), Mohammad Abbas (26), Brett Hutton (25), Daniel Worral (21), Lewis Gregory (21).
Division Two: Timm van der Gugten (28), Matthew Potts (24), Ben Raine (23), Joe Leach (17), Michael Neser and Jordan Thompson (16)
Leading Championship run-scorers 2023
Five games in, the leading Div one scorers are: James Rew (539), Josh Bohannon (471), Sam Hain (436), Ben Compton (431), Tom Westley (413).
In Div Two: Cheteshwar Pujara (545), Rishi Patel (517), Lewis Hill (398), Tom Alsop (396), Peter Handscomb (395),
Foakes leaps across first slip, nearly pick-pockets second, to snaffle Billings, and a wicket maiden for Lawes. Kent 80-4.
Your thoughts on Glamorgan making three figures? Currently 65-6. Not much left to scrape around for in the batting drawer. Two for Ollie Robinson in his last Sussex appearance of the season (?).
Ashes batsman for breakfast No. 2: Zak Crawley
A fence to third slip, gone for 19.
Such a weird situation he finds himself in, I feel for the guy. Hope he gets a big one at Lord's.
A smart catch for Ben Foakes behind the stumps, who will be feeling the love from the Surrey faithful. Muyeye a tidy 22, Kent 71-3.
I don't know how this ended up on my twitter feed, but I was quite amused by Ben Compton's disdain for the question.
A fourth Glamorgan wicket falls, they seem to have temporarily forgotten that they are a heady fourth in the table. Ul-Hassan joins the dressing-room bench, with the consolation that he has by far the highest score, 22. Glamorgan 50-4, a wicket each for Haines, Karvelas, Robinson and Hudson-Prentice.
Ashes batters for breakfast. No.1: Marnus Labuschagne
In Division Two:
Leeds and Borthwick are making good progress against Gloucestershire, though Lees more cautiously than he has been. Durham 41-1.
Glamorgan are suffering a batting malfunction against Sussex, though debutant Ul-Hassan is still there on 16. The Worlds No.1 Test batsman lbw Ollie Robinson for just one. Glamorgan 31-3.
Rishi Patel, last week's centurion and match-saver, is 16 not out in Leicestershire's 55–1. Budinger caught off Leach for 30
And thanks to Mes for pointing out that Durham have made some great-sounding upgrades at CLS to make the ground more inclusive for those for all, including a sensory room, a multi-faith room and new disabled accessible changing facility, which meets the needs of those with complex care needs and includes a height adjustable adult-sized changing bench, ceiling track hoist system and peninsular toilet.
Half an hour gone, what's been occurring in Division One?
A typically wobbly Somerset start, 21-2 at Lord's' a wicket each for TRJ and Murtagh. Hampshire's unreliable batting order are off to a flier against Northants,Hants 46-0.
Stuart Broad has his first wicket at Trent Bridge – Browne for 11 – and is running in against his old captain SirALastair. Broad now looks marker-penned in for the whole summer given the fast bowling injury list. Hope the old bones can take it. Essex 34-1. And Kent? Better than you might have feared, 19-1 agains the juggernauting 2022 Champs. Zak Crawley, Test place reaffirmed, 8 not out.
Ali spoke to Jonny Bairstow after his recall. Empathy for Foakes, but the biggest surprise was the nugget that England cricket have a partnership with Radox – bubble baths all round.
A fabulous day for the South Asian Cricket Academy – three graduates make their debuts this Thursday morning. Hearty good luck back pats for Zaman Akhter (Glos), Arafat Bhuiyan (Kent) and Zain Ul-Hassan (Glamorgan).
"Morning Tanya, morning all." Hello Em Jackson! you get the CCLive award for the first email of the round.
"Not sure what Durham are thinking vis-à-vis weather forecast & batting first, forecast is cloudy today + tomorrow, showers possible Saturday then a sunny Sunday . . . . wonder if they think they'll wrap this up in 2 days? Gonna be interesting (and I'm hoping for better weather for my 4 days at Riverside, C-L-S, in the return fixture & sitting on my hands having lived in the SW and watching Glos + wanting one of those lovely flats at the Ashley Down Rd. End)."
Yes, I fancy one of those flats too! An early wicket for Singh-Dale at Bristol, Jones gone for a snappy 13, Durham 15-1.
Mental Health Awareness week
If you suffer from anxiety, or know someone else who does, do take a couple of minutes to read this beautifully written blog by Middlesex's Ethan Bamber, published by the ECB to raise awareness during Mental Health Awareness week. Thoughtful, wise and articulate.
Bamber has become involved with Opening Up Cricket, who promote mental health awareness and suicide prevention through cricket.
A lot of love for county cricket in the Guardian this week. Two fabulous pieces – one byJonny Liew on Leicestershire:
And one by Andy Bull, making a comparison with the IPL:
Division Two table – all counties have played five games
1 Durham 82
2 Sussex 64
3 Leicestershire 60
4 Glamorgan 59
5 Worcestershire 47
6 Gloucestershire 38
7 Derbyshire 37
8 Yorkshire 33
Division One table – all counties have played five games
1 Surrey 82
2 Warwickshire 79
3 Hampshire 57
4 Nottinghamshire 57
5 Essex 53
6 Middlesex 48
7 Lancashire 46
8 Somerset 44
9 Kent 39
10 Northamptonshire 35
DIVISION ONE
The Rose Bowl: Hampshire v Northamptonshire
Lord's: Middlesex v Somerset
Trent Bridge: Nottinghamshire v Essex
The Oval: Surrey v Kent
DIVISION TWO
Bristol: Gloucestershire v Durham
Hove: Sussex v Glamorgan
New Road: Worcestershire v Leicestershire
Good morning! We're here, already, round seven and the end of this spring/early summer block of matches. From Sunday onwards, it all becomes a jigsaw – two games in June around the T20 Blast, three in July, then a break for The Hundred and back for the denouement in September.
So kick off your socks for these four days, while nature hangs in perfect* May balance. At Hove, you'll catch the No1 and No3 batmen in the world; at Bristol, Durham have a chance of extending their lead at the top of Division Two. And I fear for Northants at the Rose Bowl.
(*notwithstanding the scientists latest cry into the abyss that we will bust 1.5 degrees of warming in the next few years.)