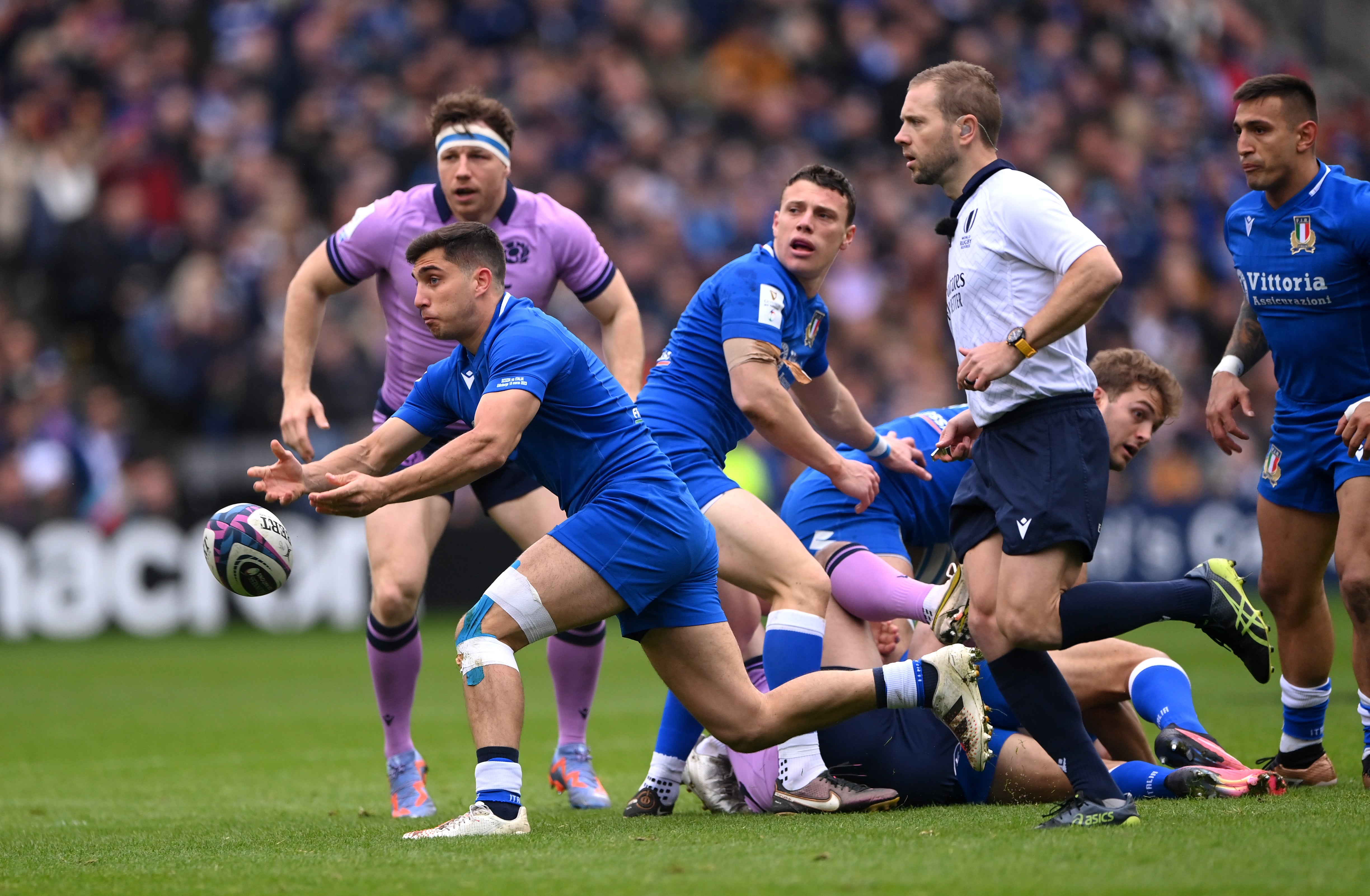 Scotland can lock up third spot in the 2023 Six Nations if they secure a bonus-point win over Italy on home soil at Murrayfield this afternoon.
Scotland's championship started with such promise as they continued their recent Calcutta Cup domination over England before ending their hoodoo against Wales to head into the first rest week with their grand slam aspirations still alive.
Gregor Townsend then saw his troops slip to back-to-back defeats to France and Ireland, despite decent performances in both games. Victory over Italy would cap a solid Six Nations heading into a daunting World Cup group but a shock loss would undermine a lot of the work they have done to this point.
The Azzurri showed plenty of positive signs in their first three games of this championship but a winnable game against a Wales side in disarray saw them produce a limp display and slip to a frustrating defeat, giving them just one more chance to salvage their Six Nations campaign.
Follow live coverage from the first game on Six Nations Super Saturday below:
1679144111
Scotland 5-6 Italy, 21 minutes
Scotland's maul is once more stalled so it is back to their mighty wing menace, Duhan van der Merwe drawing three Italian defenders and still proving tough to stop.
Ben White snipes to within a matter of inches. Pierre Schoeman waits to biff over…dropped with the line in sight! Schoeman was just a little static as he paused to take a pop pass, and a firm contact to the ball knocks it loose.
Hang on – TMO Brett Cronan believes Edoardo Iachizzi hasn't quite wrapped his arms. Scotland get a penalty for a no-arms tackle, Schoeman gets a reprieve.
Harry Latham-Coyle18 March 2023 12:55
1679143955
Scotland 5-6 Italy, 19 minutes
Maul, and George Turner breaks away…a metre shy. Jonny Gray lumbers it up, and then Zander Fagerson too.
Now wide, behind George Turner to Blair Kinghorn and then on to Ollie Smith. Kinghorn again…bundled towards touch.
Kinghorn managed to hurl a desperate offload infield just before his boots were chalked – an Italian leg sent the ball out so Scotland will throw a five-metre lineout on the opposite touchline.
Harry Latham-Coyle18 March 2023 12:52
1679143868
Scotland 5-6 Italy, 18 minutes
Italy's accuracy again lets them down, though, and Scotland pour through, driving Italy back. That's not a good sight, either – Danilo Fischetti is staggering about with an apparent injury.
Italy's chasing forwards are then offside as Paolo Garbisi's kick fails to make the touchline. Edoardo Iachizzi is also struggling with an injury of some kind, but both he and tight five colleague Fischetti will form part of the defensive Italian lineout as Scotland kick to the right corner.
Harry Latham-Coyle18 March 2023 12:51
1679143768
Scotland 5-6 Italy, 17 minutes
Italy's restart drill is competent enough and Allan boots the ball long into the Scottish backfield, from where the hosts will run it back.
Thrice forward carriers are stalled, so it is to the air for Ben White, too, flighting his box slightly too far and allowing Paolo Garbisi to step elegantly beyond two chasers.
Tommaso Menoncello also puts some lively footwork on, but is just about hauled down as Simone Gesi begins to get excited outside his centre.
Harry Latham-Coyle18 March 2023 12:49
1679143659
PENALTY! Scotland 5-6 ITALY (Tommaso Allan penalty, 16 minutes)
Neatly popped through by Tommaso Allan, now hitting the fairways after that early errant effort. Italy back in front.
Harry Latham-Coyle18 March 2023 12:47
1679143616
Scotland 5-3 Italy, 15 minutes
I think it would be safe to say that restarts will be a work-on for virtually all the Six Nations coaches after this campaign – every side in the competition has struggled at times with kick receipt after scoring. Jack Dempsey isolates himself as he runs away from his support in to a brace of Italian front rowers, Giacomo Nicotera dumping him on his back and allowing Marco Riccioni to lock over the top of the ball.
Tommaso Allan gestures for the tee for a third time in these opening 15 minutes.
Harry Latham-Coyle18 March 2023 12:46
1679143417
TRY! SCOTLAND 5-3 Italy (Duhan van der Merwe try, 13 minutes)
What a finish from Duhan van der Merwe!
Superb from the giant wing! Huw Jones skips away from the Italian defence and fades to the outside, creating room to pass flat to Van der Merwe on the run.
Paolo Garbisi rushes across and collides with the far larger man, sending his feet spinning out into the Firth of Forth, but Van der Merwe reaches a long right arm back in to play, contorting around the corner flag to place firmly and score before his toes hit the deck.
Harry Latham-Coyle18 March 2023 12:43
1679143378
Scotland 0-3 Italy, 12 minutes
Hint of an overlap…away from the waiting players! Italy just about rush up in time to hassle Blair Kinghorn playing the link out the back, with the fly-half's flick missing two teammates outside him.
But Scotland daren't dally – George Turner taps and goes quickly, and has Van der Merwe managed to acrobatically dot down in the corner?
Harry Latham-Coyle18 March 2023 12:42
1679143308
Scotland 0-3 Italy, 11 minutes
Italy's maul defence is rather better formed than their hosts' was a few minutes ago, but Duhan van der Merwe ensures Scotland retain some form of momentum by skipping by a couple of would-be tacklers.
Sione Tuipulotu shows brightly on a couple of occasions, niftily shifting on from his chest to Van der Merwe as he is tackled low. Advantage coming; pressure building…
Harry Latham-Coyle18 March 2023 12:41
1679143206
Scotland 0-3 Italy, 9 minutes
Italy have kicked possession every time they've had it so far, but there's the adventure we've so associated them with during this tournament, forwards and backs playing to width inside their own 22. A wayward pass hits the deck to end that particular exploration, and Alessandro Fusco is forced to rather hurry a box kick away.
It fails to find touch and back come Scotland, with Edoardo Iachizzi pinged for grabbing Ben White before the scrum-half has hands on the ball. Scotland poke the penalty into the Italian 22.
Harry Latham-Coyle18 March 2023 12:40