Hart said her kids attend a school "right next" to Covenant as she also shared her connection to Sandy Hook elementary school at the time of the 2012 shooting.
Melissa Joan Hart is sharing an emotional story about how she and her husband helped kindergarteners who were running from the deadly shooting at The Covenant School.
Six people — three children, all aged nine, and three adults — were killed at the Nashville elementary school on Monday.
Hart posted a video to Instagram on Tuesday in which she recalled the horrific experience, revealing that her sons attend a school near Covenant.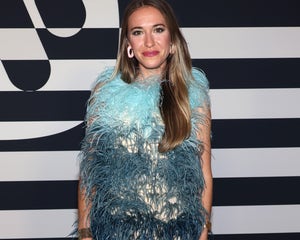 Getty
Lauren Daigle Postpones Nashville Concert to Host Vigil for Shooting Victims

View Story
"My kids go to school right next to a school where there was a shooting today," began the actress, before sharing that this isn't the first time her family has been near a school shooting.
"We moved here from Connecticut where we were in school a little ways down from Sandy Hook, so this is our second experience with a school shooting with our kids being in close proximity," she said, referencing the 2012 mass shooting that killed 26 people, including 20 elementary school students.
"Luckily we are all okay," Hart added.
The "Sabrina the Teenage Witch" alum — who shares sons Mason, 17, Braden, 15, and Tucker, 10, with her husband Mark Wilkerson — said she and Wilkerson "were on [their] way to school for conferences," so their children weren't in school on Monday.
Waiting for your permission to load the Instagram Media.
While en route, Hart and her husband jumped into action to help kids who were fleeing the Covenant shooting.
"We helped a class of kindergartners across a busy highway," Hart explained, appearing to hold back tears. "They were climbing out of the woods. They were trying to escape the shooter situation at their school. So we helped these tiny little kids cross the road and get their teachers over there."
She added, "We helped a mom reunite with her children and I just … I don't know what to say anymore. Enough is enough. Just pray, pray for the families."
"Prayers today, Action tomorrow," Hart captioned her video. "This was too raw to post yesterday but wanted you to hear this story."
According to police, on Monday, 28-year-old Audrey Hale opened fire at The Covenant School, fatally shooting six people: three 9-year-old students and three adults who worked at the school.
The 9-year-old students have been identified as Evelyn Dieckhaus, William Kinney, and Hallie Scruggs. The three adults who lost their lives were Katherine Koonce, the school's headmaster, Mike Hill, a custodian, and Cynthia Peak, a substitute teacher. The adults were all in their 60s.
Police later shot and killed Hale, who was a former student of the school.