To look at a Lucie Rie ceramic is to see a new beginning; in every glaze, shape and incision is the search for a fresh perspective. Rie once said: "To make pottery is an adventure to me, every new work is a new beginning." Over her 60-year career, Rie kept finding novel ways to experiment with aesthetics and form. That quote is the inspiration for the title of Lucie Rie: the Adventure of Pottery, at Kettle's Yard, and with more than 100 of Rie's pieces it fully exemplifies how her commitment to beginnings ensured her body of work was always evolving.
Starting anew was not just a creative endeavour but a personal one. Rie had to begin again when she arrived in London in 1938 from Vienna, fleeing the Nazi persecution of the Jews. Despite being a successful ceramicist in Austria, the 36-year-old was unknown in Britain and her style differed from that of Bernard Leach, the main pottery tastemaker at the time. However, Rie was not an artist troubled by the presence of other skilled crafts people with different approaches. She positioned herself as student, absorbing their styles to see how they flourished under her own hand.
The earliest work in the exhibition is a small, fluted pot in vibrant colours from 1926 – produced around the time that Rie graduated from Vienna's Kunstgewerbeschule – and is reflective of the forms of her mentor Josef Hoffmann. Leach's influence is found in a chunky 1948 brown tea service with throwing rings and thick handles, while the delicacy and blue hue of Wedgewood's Jasperware blends perfectly with Rie's meticulous line décor in a set of prototype cups and saucers she made for the company.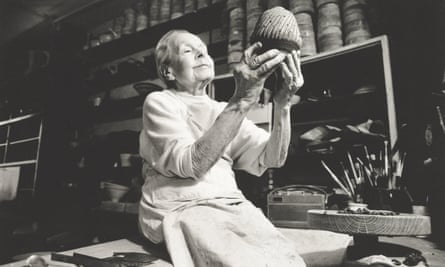 This ability to shapeshift while still maintaining her own signature style was vital, not only to her survival as a potter, but to survival, full stop. On arrival in London, Rie was unable to secure a licence to make pots, so to make ends meet she pivoted to making buttons for fashion houses. Reading the exhibition catalogue on the sofa, my two-year-old son peeps over at the buttons and says "bits". After I correct him (no, these are buttons), I realise that they are indeed "bits" or perhaps fragments of Rie's process, each one encapsulating a new experiment and her ability to respond intuitively to another designer's work.
At Kettle's Yard the curator has had fun laying out these tiny artefacts, perfectly spaced and organised by size. Each button shimmers with mottled colour; metallics gleam off edges and intriguing shapes hold the eye. Many of these approaches expand in Rie's pots, which, by 1960, were becoming even more experimental. The latter part of her career is celebrated in the second gallery and the works explode with a lifetime's collection of new beginnings. "Pinholed" glazes ooze across bowls, spiral shadows wrap around tall bottles, inlaid and sgraffito lines dash down vases, golden manganese oxide dazzles off curves and yellows, teals and pinks shine with sumptuous pleasure.
The latest work is a pink porcelain bowl from 1990. It is a captivating, classic Rie with perfectly spaced lines and molten bronze edging, but it suffers from the same thing every work in this exhibition does: it is in a vitrine. I am assuming that this decision is based on a need to protect the ceramics, because the introduction of glass casing immediately dulls colour, dampens texture and fills the exhibition space with boxes.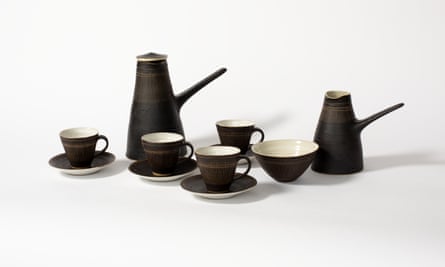 Rie herself was incredibly sensitive to the creation of an environment, believing in the Wiener Werkstätte's principle of establishing a unifying aesthetic across architecture, interiors and objects. When she moved to London, she went to extreme lengths to transport the interior of her Viennese flat, which was made by architect Ernst Plischke. Visitors and select customers would have arrived at Rie's studio and home on Albion Mews to open shelving full of her creations, which would have generated impact and conversation that is lost to rows of cabinets.
It is possible to get a little taste of this in that a number of Rie's ceramics are dotted around the home of Jim and Helen Ede, the founders of Kettle's Yard, which is also open to the public. Within the domestic setting, Rie's works sing – the balance of a small round bowl is emphasised by the round table it is placed on, and the bubbling glaze of a mint green bowl becomes oceanic beneath a painting of shipbuilding.
Despite the exhibition barely mentioning this, the Edes loved Rie's work, and they understood the power it had in their home. During the 1970s, several ceramic shows opened at Kettle's Yard and every night – after the gallery closed – Jim would carry Rie's work known as "The Wave" into his house to observe the way light interacted with its dappled surface. This conical bowl now permanently sits where Jim placed it, on a slate table in front of triptych by Italo Valenti, allowing us to fully appreciate the way in which Rie's modest creations could enliven an entire scene.