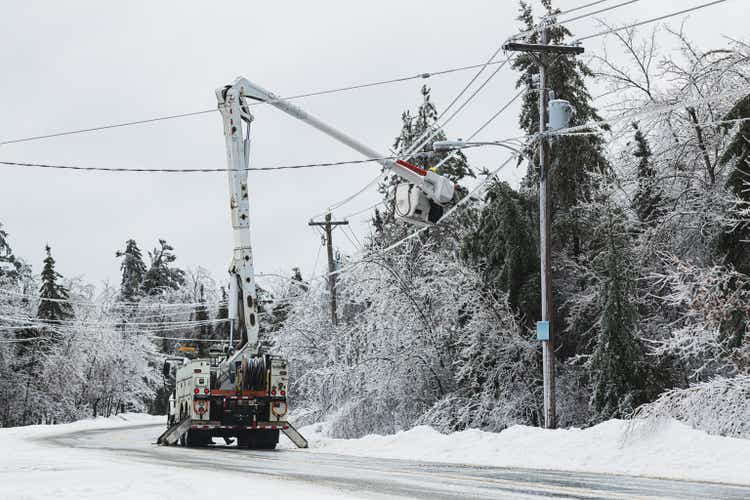 Avista Corporation (NYSE:AVA) is a regulated electric and natural gas utility that operates primarily in the Pacific Northwest, although it also has a small operation in Alaska. This is a pretty good sector to operate in right now, considering that investors are panicking and looking for safety following the collapse of three banks in the past nine days. The utility sector as a whole has been a favorite of conservative investors and retirees for decades, as the companies in the industry typically offer remarkably stable cash flows and fairly high dividend yields. Avista is not an exception to this as its 4.41% yield is substantially higher than that of the S&P 500 as well as being one of the few utilities that can offer a similar yield to money market funds today. This should prove especially appealing since it also has some growth prospects that will allow it to deliver a better total return than risk-free assets. Unfortunately, Avista is a bit more expensive than many other utilities, so there is not really an opportunity for bargain-hunting and in fact, the stock could underperform the sector as a result of the valuation. This is, essentially, a similar situation to what we had the last time that I discussed Avista Corporation and recommended buying on any dips in the stock price.
Let us investigate further and see if Avista could make sense to purchase today.
About Avista Corporation
As stated in the introduction, Avista Corporation is a regulated electric and natural gas utility that primarily operates in the Pacific Northwest states of Washington, Oregon, Montana, and Idaho. The company also has an operation in Alaska: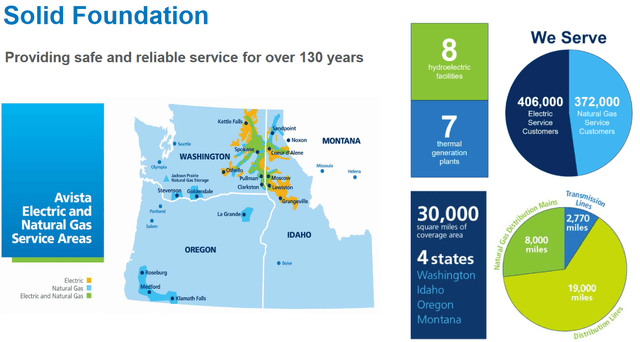 The Pacific Northwest is an interesting region of the United States as it has a few highly populated cities, but much of the region is rural. Avista Corporation serves the rural area of the region as is evidenced by the fact that it only has 406,000 electric and 372,000 natural gas customers despite its four-state service territory. The company's operation in Alaska is similarly small, as it only serves 17,000 customers in the Juneau area: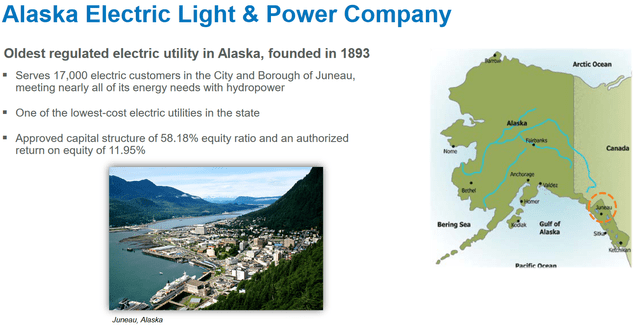 The fact that the company does not have a huge customer base means that it is a utility that is overlooked by many investors that are seeking to take a position in the sector. However, this should not necessarily be the case as it shares many of the same qualities as larger utility companies. In particular, Avista Corporation has remarkably stable cash flows over time. This chart shows the company's operating cash flow in each of the past eleven twelve-month periods:

We can see some fluctuations here, most notably in the most recent period, but for the most part, Avista Corporation's cash flows were relatively stable over time. The decline in the most recent period was due to the fact that Avista Corporation reported a negative $86.2 million cash flow in the fourth quarter of 2022 compared to $38.4 million in the prior-year quarter. That negative operating cash flow is atypical for the company and it, unfortunately, did not provide a reason for it in either the earnings press release or the earnings conference call. The company's financial statements do show a fairly substantial outflow of cash due to a change in net operating assets that did not occur during prior-year quarters:

This may have been caused by the fact that natural gas prices were higher during the most recent quarter than they have been in the past, but that is just speculation on my part as the company did not explain exactly what caused that money to leave its corporate bank accounts. The fact that only one quarter had such a change in operating cash flow does not change the fact that Avista's finances are generally pretty stable during any given twelve-month period.
The reason for this stability is the nature of the company's business. Avista provides a product that is generally considered to be a necessity for our modern way of life. After all, how many of us do not have electricity and heating for our homes and businesses? As such, most people prioritize paying their utility bills above other discretionary expenses during periods when money gets tight. The government even has various programs in place to pay utility bills for people that are in difficult financial straits. Thus, utility bills almost always get paid, which provides a steady source of revenue for Avista. As most people do not significantly change their consumption of electricity and natural gas over time, the company's revenues tend to be relatively stable. This allows it to budget appropriately and produce similar cash flows over time.
Naturally, though, as investors, we are interested in much more than simple stability. We like to see the companies that we invest in grow and prosper over time. As mentioned in the introduction, Avista is likely to accomplish this going forward. The primary way that the company will do this is by increasing its rate base. The rate base is the value of the company's assets upon which regulators allow it to earn a specified rate of return. Since this rate of return is a percentage, any increase in the rate base should allow the company to raise the prices that it charges its customers in order to earn that specified rate of return. The usual way for a utility to increase its rate base is by investing money into upgrading, modernizing, and possibly even expanding its infrastructure. Avista is planning to do exactly this and has budgeted $1.425 billion over the 2023 to 2025 period for this task: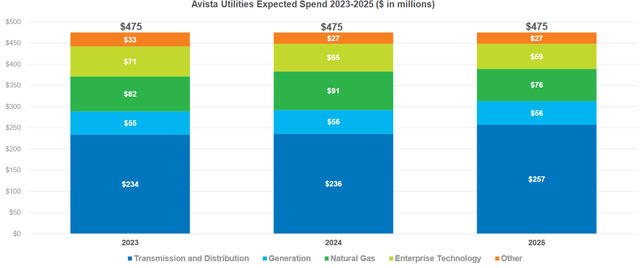 It would be nice to see a long-term outlook than this. As I have noticed in various previous articles, many of the company's peers have provided spending outlooks the whole way out to 2027. It would be nice to see that from Avista as opposed to simply a three-year outlook. This would allow us to better determine the total return that we could get from the company as a long-term investment holding. As it stands, the only thing that we can determine is that Avista Corporation should be able to grow its rate base at a 5% compound annual growth rate over the next three years. This should result in similar earnings growth, with the company's management projecting 4% to 6% annual growth over the period. When combined with the company's dividend, that should work out to an 8% to 10% total return on average each year. That is reasonable for a utility, but there are peers that should be able to outperform this. Management has stated that Avista Corporation should be able to continue to grow at this rate beyond 2025, but it would be nice to actually see the company's budget for accomplishing this.
Financial Considerations
It is always important to look at the way that a company finances itself before making an investment in it. This is because debt is a riskier way to finance a company than equity because debt must be repaid at maturity. This is normally accomplished by issuing new debt and using the money to repay the existing debt, which can cause a company's interest expenses to increase following the rollover in certain market conditions. Those market conditions exist today since as everyone reading this is no doubt well aware, the Federal Reserve has been very aggressively hiking interest rates over the past year in an effort to combat the high inflation that has dominated the economy. A second risk exists with debt, which is that a company must make regular payments on its debt if it is to remain solvent. Thus, an event that causes a company's cash flow to decline could push it into financial distress if it has too much debt. There have been bankruptcies in the utility sector before, so we should not ignore this risk even though these companies usually do have very stable cash flows.
One way that we can examine the financial structure of a company is by looking at its net debt-to-equity ratio. This ratio essentially tells us the degree to which a company is financing its operations with debt as opposed to wholly-owned funds. It also tells us how well a company's equity will cover its debt obligations in the event of bankruptcy or liquidation, which is obviously more important.
As of December 31, 2022, Avista Corporation had a net debt of $2.9257 billion compared to $2.3347 billion of shareholders' equity. This gives the company a net debt-to-equity ratio of 1.25 today. Here is how that compares to some of the company's peers:
| | |
| --- | --- |
| Company | Net Debt-to-Equity Ratio |
| Avista Corporation | 1.25 |
| DTE Energy (DTE) | 1.85 |
| Northwestern Corporation (NWE) | 0.98 |
| The AES Corporation (AES) | 3.74 |
| American Electric Power Company (AEP) | 1.66 |
As we can see, Avista Corporation generally compares fairly well to its peers in this respect. The company is most certainly not the least levered in the industry, but it is a bit below average. That is a good thing for those investors that are looking to minimize their risk as generally speaking, the lower a company's leverage the lower the risk. Thus, Avista Corporation looks pretty good here.
Dividend Analysis
As I stated in the introduction, one of the reasons that investors purchase shares of utility companies is that these companies usually have higher dividend yields than companies in most other sectors. This is because their slow growth rates mean that their valuations are not as inflated as we see in some other sectors and because they pay out a higher proportion of their earnings in the form of dividends in order to provide an investment return. Avista Corporation is certainly no exception to this as the stock yields 4.41% as of the time of writing, which is substantially above the 1.60% current yield of the S&P 500 Index (SPY) and the 2.48% yield of the U.S. Utilities Index (IDU). Avista Corporation also has a long history of increasing its dividend annually:

The fact that the company increases its dividend every year is very nice to see, particularly during inflationary times such as the one that we are experiencing today. This is because inflation is constantly reducing the number of goods and services that we can purchase with the dividend that the company pays out. This can make it feel as though we are growing progressively poorer with the passage of time. The fact that Avista Corporation increases the amount of money that it pays us every year helps to offset this effect and maintains the purchasing power of the dividend that we receive from the company. As is always the case though, we want to ensure that the company can actually afford the dividend that it pays out. After all, we do not want it to be forced to reverse course and cut the dividend since that would reduce our income and almost certainly cause the stock price to decline.
The usual way that we judge a company's ability to maintain its dividend is by looking at its free cash flow. A company's free cash flow is the money that is generated by a company's ordinary operations that is left over after the company pays all of its bills and makes all necessary capital expenditures. This is the money that can be used for tasks such as repaying debt, buying back stock, or paying a dividend. During the twelve-month period that ended on December 31, 2022, Avista Corporation reported a negative levered free cash flow of $224.2 million. This was obviously not enough to pay any dividend, yet the company actually paid out $129.1 million during the period. The fact that it had insufficient free cash flow to cover the dividend is something that is certainly concerning at first glance.
However, it is quite common for utilities to finance their capital expenditures through the issuance of equity and especially debt while paying their dividends out of operating cash flow. This is mostly due to the incredibly high costs of building and maintaining utility-grade infrastructure over a wide geographic area. If the company did not do things this way, it would never be able to pay its shareholders a dividend. During the trailing twelve-month period ending December 31, 2022, Avista Corporation reported an operating cash flow of $124.2 million, which was also not enough to cover the $129.1 million dividend. This was just a one-off event, as discussed earlier in this article. During the twelve-month period that ended on September 30, 2022, Avista Corporation had an operating cash flow of $248.8 million, which is typical for any given twelve-month period for this company. Thus, in most cases, Avista Corporation can easily afford its dividend with a great deal of money left over for other purposes.
Valuation
It is always critical that we do not overpay for any asset in our portfolios. This is because overpaying for any asset is a surefire way to generate a suboptimal return on that asset. In the case of a utility like Avista Corporation, we can value it by using the price-to-earnings growth ratio. This ratio is a modified version of the familiar price-to-earnings ratio, except that it also takes a company's forward earnings per share growth into account. A price-to-earnings growth ratio of less than 1.0 is a sign that the stock may be undervalued relative to its forward earnings per share growth and vice versa. However, there are very few stocks that have such a low ratio in today's market. That is especially true in the low-growth utility sector. Thus, the best way to use this ratio is to compare Avista Corporation to some of its peers and see which company offers the most attractive relative valuation.
According to Zacks Investment Research, Avista will grow its earnings per share at a 5.18% rate over the next three to five years. This is very much in line with the 4% to 6% rate that the company's own management expects, so it seems like a good figure. This gives the stock a price-to-earnings growth ratio of 3.48 at the current price. Here is how that compares with some of the company's peers:
| | |
| --- | --- |
| Company | PEG Ratio |
| Avista Corporation | 3.48 |
| DTE Energy | 2.93 |
| Northwestern Corporation | 9.45 |
| The AES Corporation | 1.58 |
| American Electric Power Company | 2.83 |
As we can clearly see here, with the notable exception of Northwestern Corporation, Avista Corporation appears to be quite expensive compared to its peers. This is very similar to the situation that we had the last time that we looked at the company. That could unfortunately be a drag on our returns going forward since it implies that we are overpaying for the stock today. It therefore might make sense to wait for a pullback before purchasing shares, as this would allow one to buy the company at a more attractive price.
Conclusion
In conclusion, Avista Corporation is a somewhat underfollowed utility, but it offers many of the things that we like to see in the sector. It has remarkably stable cash flow over time as well as a strong balance sheet. Unfortunately, we do not have as much visibility into the company's growth prospects as we might like, but the total return on average should still be acceptable. The company also has a strong balance sheet and yields above the sector average. The only real downside that I can see is that the company looks a bit expensive compared to its peers. As such, it might back sense to buy Avista Corporation only after declines in the stock price.